Neal Larson, Show Host – A graduate of Aberdeen High School and Idaho State University,

and a proud Bingham County farm kid, Neal has been a familiar voice in Idaho for many years, and since August 2006 has hosted the Neal Larson Show. Neal always dreamed of having a successful radio career. In addition to Neal's duties as the host of his self-titled radio show, and the Idaho Farm and Ranch Show, he's also the program and news director for Newstalk 107.9FM in Idaho Falls, also heard on 99.5FM in the Upper Snake River Valley, and 94.5FM in Pocatello. Neal also is the public address announcer for Idaho State University's football and basketball programs, and is an Associated Press award-winning syndicated columnist, and author. Neal lives in Idaho Falls with his wonderful wife and five children, and is a proud grandpa!
---
Ben Eborn, Livestock Market Report. Ben is an Extension Agricultural Economist for the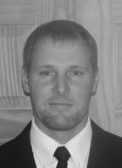 University of Idaho. He is also a graduate of the University of Idaho with a MS degree in Agricultural Economics and a BS degree in Agribusiness. Program areas include farm and ranch management, production economics, farm succession and estate planning, and crop and livestock marketing. Ben and his wife Heidi have nine children. They have a small farm where they raise angus cattle, hay, and farm kids. He enjoys spending time with family, training horses, and working with Idaho's farmers and ranchers. Ben can be heard each week on the Idaho Farm and Ranch Show delivering his informative livestock market report in the second segment of the program.
---
MORE PROFILES TO COME….